The Mail residence is the second residence in the Césal private estate. It opened its doors on 1st September 2020 to complete the housing offer of Césal Résidentiel. Its 4 buildings enclose the garden where the 5 towers are erected Muses (residence IV of our social housing stock).
The residence has 10,250 m² of living space, divided into 164 flats ranging from T1bis to T5, including T5 duplex and 232 places of underground parking. Depending on availability, the flats may have balconies or loggias and in some cases winter gardens.
The student accommodation in the Le Mail residence are equipped (crockery, kitchen utensils, hangers...) and ready to welcome you now!
The residence also has 52 family units located at the east and west ends. Unlike the student accommodation, these are not-furnished.
To liven up the neighbourhood, local shops are available on the ground floor of the residence for the benefit of all residents of the Moulon.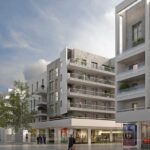 Choose your type of accommodation:
1 rue Joliot-Curie, 91190 Gif-sur-Yvette
Is finding a place a headache?
No need to worry! Césal offers you an assigned space in a secure car park.
Opening hours :
Mon - Wed - Thu - Fri: 9:00am-1:30pm / 4:30pm-6:45pm
Tue: 9:00am-1:30pm
Telephone: 01 85 37 07 12
Email : gestion@cesal.fr
Address: 1 Rue Joliot-Curie, 91190 Gif sur Yvette 
Copyright © 2020 Grant Flooring- All Rights Reserved